School Interview Booking Site
STEPS TO BOOK AN INTERVIEW...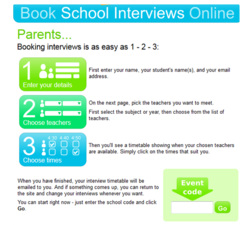 Go to this website: www.schoolinterviews.ca
Click on "Make a Booking" (top of page)
Enter Code: refer to event for code
Follow instructions
If you do not have access to the internet, please contact the school office at 780-672-2177 to book an appointment.
THREE-WAY CONFERENCE SCHEDULE (FALL 2020)
FALL 2020 - these conferences will be virtual via google meet.
Click HERE book your interview. ENTER CODE: INTERVIEW BOOKING SITE NOW CLOSED!
Interview Dates for Grade 1-4:
Monday, November 2 @ 4:00-7:30 pm
Tuesday, November 3 @ 4:00-7:30 pm
Interview Dates for Kindergarten:
Mrs. Bellamy - Nov 2/3 from 4:00 7:30 pm
Mrs. Dacey/Ms. Mowat - Nov 2/3 from 3:30-7:30 pm and Nov 4 from 3:30-7:00 pm
The teacher will provide a follow-up email to both parent and child with a google meet invite link.
Note:  Interviews are strictly 10 minutes only. This allows for technical issues since these interviews are virtual. It is vital that parents keep the schedule and end their appointments in a timely manner. If you think you will need more time, please discuss this with your teacher at the appointment.
STUDENT LED CONFERENCES (SPRING 2021)
Student Led Conferences (SPRING 2021): March 23 and 25 from 4:00 - 7:30 pm
Schedule and information to follow.