Faith Formation
EICS Religious Education Consultant
Our EICS Religious Education Consultant, coordinates the Division's religious education, health and life skills programs. Stefan works closely with religious leaders, students, staff, and families to ensure EICS is providing quality, Catholic education.
Stefan Johnson, EICS Religious Education Consultant
Phone: 780-467-8896
Fax: 780-467-5469
Email: stefanj@eics.ab.ca
School Chaplain
Michelle Nanias, School Chaplain
Email: michelle.nanias@eics.ab.ca
Growing in Faith, Growing in Christ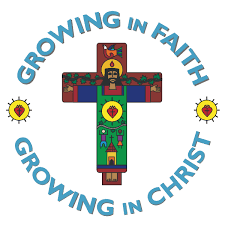 Our School uses the Growing in Faith, Growing in Christ program for Religious Education!
Growing in Faith, Growing in Christ features a Student-Home Website with videos, songs, bible stories, prayers, interactive activities and more--all designed for students and families to explore their faith together.
Log in: Click HERE Grades: 1-5 available!
Username: eics99 Password: Student99
Sponsored by the Catholic Bishops of Ontario, Alberta, Saskatchewan, and the Northwest Territories.