Welcome to St. Patrick Catholic School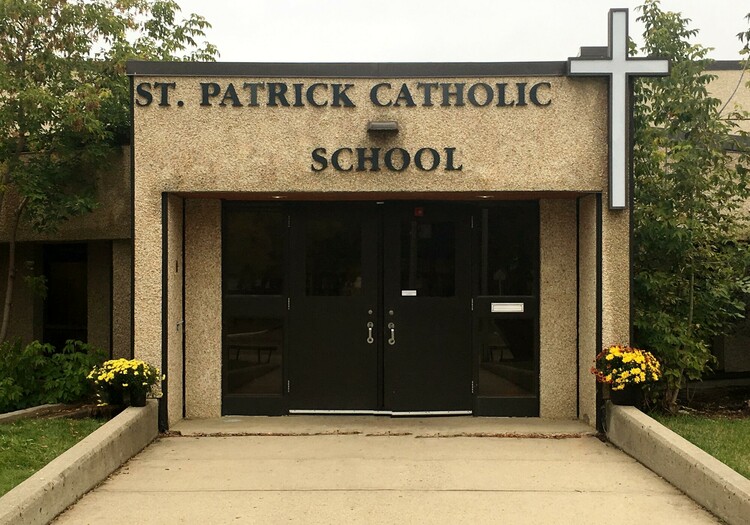 Principal: Mr. Bob Charchun
Assistant Principal: Mrs. Michelle Nanias
Early Dismissal - April 4 @ 2:05pm
Click HERE for Spring Photo Flyer
Important Busing Information!
Buses will be running for EICS students ONLY on the following dates:
March 22 - (St. Pat's ONLY)
June 7 - (St. Pat's ONLY)
**After school arrival times may be earlier than expected due to no school for Battle River students on those days**
Student Led Conference Schedule
Interview time slots will be 30min.
Tuesday, March 19 @ 4-8pm – ECS to Gr. 4
Thursday, March 21 @ 4-8pm – ECS to Gr. 4
Interview dates for the following Kindergarten teachers:
Mrs. Dacey – March 18 and 19
Mrs. Bellamy – March 21
Mrs. Calhoon– March 21
**This is a Student Led Conference so please bring your child**
How to Book Student Led Conferences Online?
Go to this website: www.schoolinterviews.ca
Click on "Make a Booking" (top of page)
Enter Code: 95fma
Follow instructions
Questions? Please contact the school office at 780-672-2177.
2019-2020 Registration Information
To register for Kindergarten in the 2019-2020 school year, your child must be five years old on or before December 31, 2019.
Click HERE for Kindergarten Registration Information
St. Pat's offers a Junior Entry (3 year old) Program and a Pre-Kindergarten (4 year old) Program.
Click HERE for Early Learning Programs
Click HERE to REGISTER!
St. Patrick 2018-2019 School Calendar
Junior Entry (3 year old) 2018-2019 Calendar
Pre-Kindergarten (4 year old) 2018-2019 Calendar
Kindergarten Mon/Wed 2018-2019 Calendar
Kindergarten T/TH 2018-2019 Calendar
OLMP 2018-2019 School Calendar
How to Report An Absence
To report an absence you can do any of the following options:
Call 1-877-246-9970 - option 3
Use the SchoolMessenger App
Use the "SchoolMessenger" link in the EICS App (this requires the SchoolMessenger App to be installed on a phone)
For more detailed information and how to set up an account click HERE
Transportation Information
Click HERE for Transportation Information
Division News